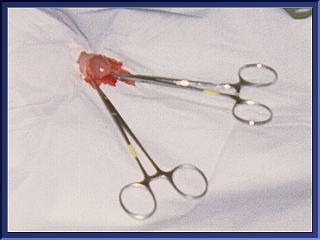 On December 13, the National Institute for Allergy and Infectious Diseases (NIAID) announced that they had halted two randomized controlled clinical trials of adult male circumcision in Kenya and Uganda because the interim data revealed that medically performed male circumcision significantly reduces a man's risk of acquiring HIV.(1) The protective effect of male circumcision was found to be 53% in the Kenya study and 48% in Rakai. The results of these two trials confirm the results of an earlier male circumcision trial in Orange Farm and the surrounding area, Gauteng, South Africa, that found a protective effect of male circumcision of 60%.(2) All participants in the control arms of these studies will now be offered the intervention.
These studies conclusively confirm suggestions from observational studies that male circumcision provides a protective effect against infection with HIV-1 in heterosexual populations in high prevalence countries. These observational studies suggest that male circumcision could limit the size of the epidemic significantly in countries with high prevalence of HIV(3) and thereby massively reduce the morbidity and mortality associated with HIV.
The World Health Organization and UNAIDS have already announced they will convene a consultation to examine the results of these trials to date and their implications for countries, particularly those in sub-Saharan Africa and elsewhere with high HIV prevalence and low levels of male circumcision,(4) as well as provide technical guidance and rapid assessment toolkits to countries thinking about instituting male circumcision programs.(5)
The challenges these findings present for health communication are considerable. Translating these complex findings into information that can inform individuals and families is not straightforward. Although these trials only address adult male circumcision, many parents in high-prevalence countries may choose to circumcise their sons as infants when the risk of complications is less. Like vaccination programs, the impact of male circumcision will be felt most at a population level if the majority voluntarily chooses to be part of the intervention. The protective effect for the individual will be limited if risk of exposure is not reduced through consistent condom use or partner reduction. We already know from anecdotal evidence that the mistaken belief that male circumcision is 100% protective can lead to behavioral disinhibition and increased HIV risk taking. This could negate the protective effect of male circumcision.(6) In many communities, circumcision, or the lack of it, is related to rites of passage and religious and tribal identity. How this new knowledge is communicated will need great sensitivity and understanding of local meaning given to male circumcision, particularly in communities where there is continued suspicion about both the origins of the virus and the measures proposed to prevent it. Given that, we should not underestimate the ability of communities to assess and interpret information to their own circumstances. Despite concern that adult male circumcision would be unacceptable, in a number of countries in southern Africa, we are already seeing men voluntarily seeking the procedure.
Adult male circumcision is not without risk of serious complications, is painful, and requires a person to avoid sex for about 6 weeks post-operatively to allow for healing. If the newly circumcised man has sex during this time, serious complications can occur and his risk of HIV infection could increase. These trial results are based on the procedure being carried out in sterile clinical environments by trained medical personnel. Although in sub-Saharan Africa male circumcision is often performed on an outpatient basis under anesthetic, many men continue to be circumcised by traditional and religious practitioners.(7) The potential role of religious and traditional practitioners in male circumcision intervention programs needs careful consideration, and I hope the WHO and UNAIDS consider this in their reflections.
What we need now are interventions that pilot a comprehensive male circumcision intervention package with excellent pre- and post-operative care, and where male circumcision is offered within a strategic communication framework that includes community sensitization, effective interpersonal communication of the risks and benefits, and prevention education to counteract the potential for behavioral disinhibition. Given other health benefits associated with male circumcision -- hygiene, reduced incidence of some STIs, particularly HPV infection and its impact on cervical cancer -- male circumcision could be set within a broader men's sexual health program. Operations research would help influence future models of intervention.
Although the results of these trials offer some hope for reduction of HIV burden in some of the most affected countries, male circumcision is not a panacea. What part it will play in a comprehensive HIV prevention response is yet to be known and continued work to find effective female-controlled HIV prevention methods must remain a global priority.
In the history of the epidemic, the results of these trials are as important as the results of the Pediatric AIDS Clinical Trials Group study (PACTG 076)(8) that showed a two-thirds reduction of perinatal transmission through a complex regimen of zidovudine for mother and infant. It took more than six years before we had resource-appropriate interventions that were available in developing country settings and, sadly, most women still do not have access to comprehensive perinatal HIV prevention services. Perhaps the global community will not wait so long before discerning the difficult task of how to translate these findings into appropriate, safe, and contextually relevant programs.
Additional Reading:
Notes:
(1) National Institute of Allergy and Infectious Diseases (NIAID). Adult male circumcision significantly reduces risk of acquiring HIV: Trials in Kenya and Uganda stopped early. Dec. 13, 2006.
(2) Auvert, B., Taljaard, D., Lagarde, E., Sobngwi-Tambekou, J., Sitta, R., Puren, A. Randomized, controlled intervention trial of male circumcision for reduction of HIV infection risk: The ANRS 1265 Trial. PLoS Medicine. 2(11): e298. 2005.
(3) Weiss, H.A., Quigley, M.A., Hayes, R.J. Male circumcision and risk of HIV infection in sub-Saharan Africa: A systematic review and meta-analysis. AIDS. 14(15): 2361-70.
(4) Alcorn, K. Two circumcision studies halted after circumcised men's HIV risk halved. Aidsmap. (London, UK), Dec. 13, 2006.
(5) World Health Organization (WHO), United Nations Population Fund (UNFPA), United Nations Children's Fund (UNICEF), World Bank, and UNAIDS. Statement on Kenyan and Ugandan trial findings regarding male circumcision and HIV. Dec. 13, 2006.
(6) Gray R.H., Li, X., Kigozi, G., Serwadda, D., Nalugoda, F., Watya, S., Reynolds, S.J., Wawer M. The impact of male circumcision on HIV incidence, and cost-per infection prevented: A stochastic simulation model from Rakai, Uganda. 2006. (Forthcoming)
(7) Halperin, D.T. and Bailey, R.C. Male circumcision and HIV infection: 10 years and counting. The Lancet 354(9192): 1813-1815. Nov. 20, 1999.
(8) Connor E.M., Sperling R.S., Gelber R., Kiselev P., Scott G., O'Sullivan M.J., VanDyke, R., Bey, M., Shearer, W., Jacobson, R.L., Jimenez, E., O'Neill, E., Bazin, B., Delfraissy, J.F., Culnane, M., Coombs, R., Elkins, M., Moye, J., Stratton, P., Balsley, J. Reduction of maternal-infant transmission of human immunodeficiency virus type 1 with zidovudine treatment. New England Journal of Medicine 331(18): 1173-1180. Nov. 3, 1994.